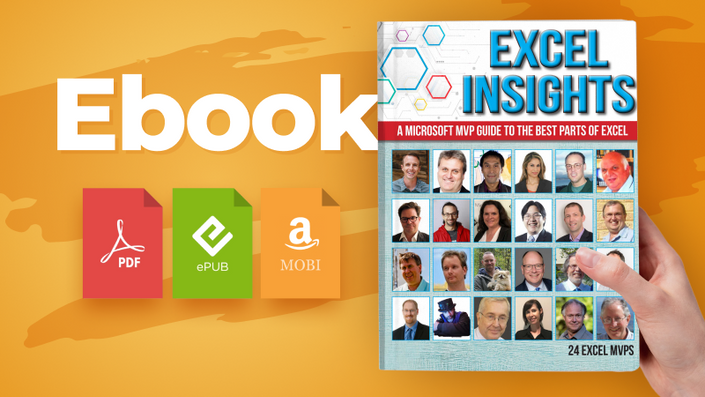 Excel Insights by 24 Excel MVPs (eBook)
Written by MVPs. Edited by MVPs. Read by Millions.
The Excel MVPs have a wealth of knowledge and passion for Excel. This book shares a wide variety of advanced and new techniques.
- Brian Jones, Excel Group Program Manager, Microsoft
This is NOT like a normal book used to learn Excel. This book is a selection of self-contained articles covering hot topics such as
Rich Data Types
Collaboration
Dynamic Arrays
Xlookup and other brand new functions
Charting Tricks
Data Analysis / PivotTables
Financial Modeling
Number Formatting
Power Pivot
Power Query
VBA Tips
All of these are covered in 280 pages
AND
You can download the Excel files used.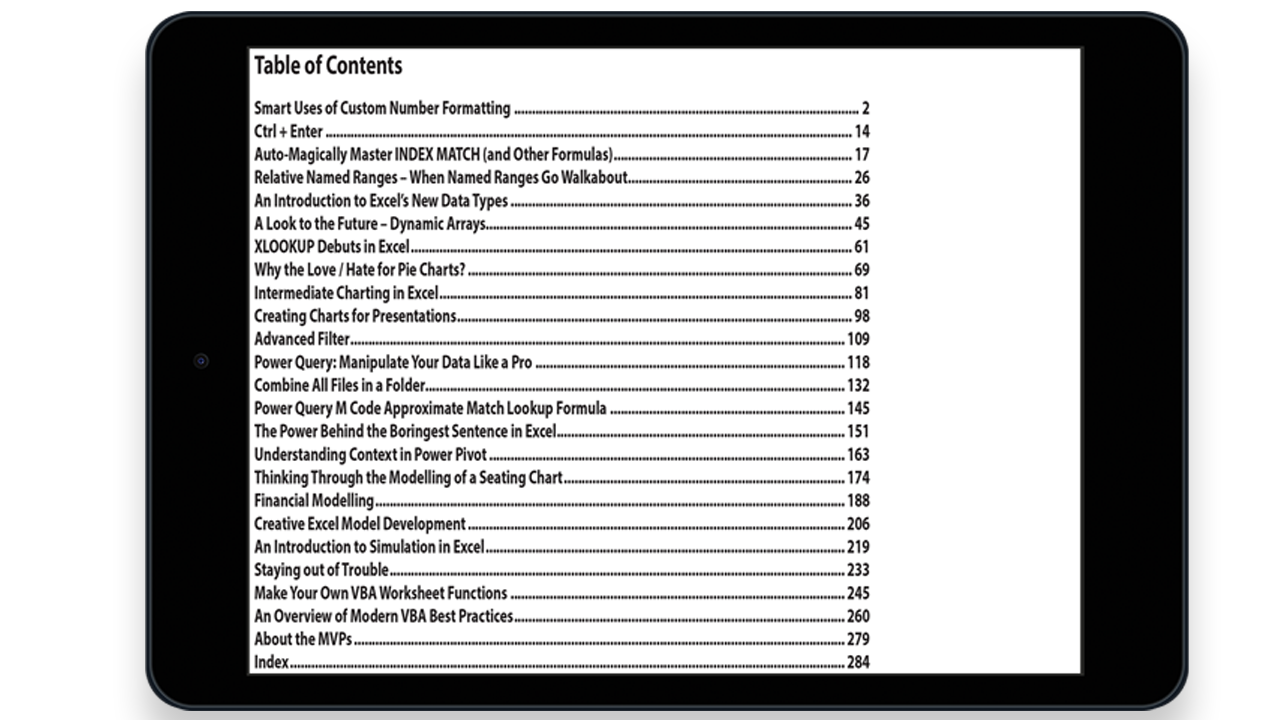 YOUR BONUS
---
7 part video series: Professional Presentations with One Simple Trick
This is part of a presentation Leila gave for Bulgaria Excel Days where she covered 3 Methods and 1 simple but overlooked trick that will help you create professional reports.
The Workbook used is included in the package.
There are fewer than 100 Excel MVPs worldwide. 24 of them have contributed to this book.
Written, edited, reviewed and printed by Excel MVPs, this is practical Excel passion undiluted with each MVP highlighting some of their favorite topics.
Feel free to dive in and become immersed in the contagious enthusiasm for the world's most popular spreadsheet software.
Included in the book:
Leila Gharani: Smart Uses of Custom Number Formatting
Gašper Kamenšek: Ctrl + Enter
Wyn Hopkins: Auto-Magically Master INDEX MATCH (and Other Formulas)
Mynda Treacy: Relative Named Ranges – When Named Ranges Go Walkabout
John MacDougall: An Introduction to Excel's New Data Types
Liam Bastick: A Look to the Future – Dynamic Arrays
Tim Heng: XLOOKUP Debuts in Excel
Jon Acampora: Why the Love / Hate for Pie Charts?
Jon Peltier: Intermediate Charting in Excel
Dave Paradi: Creating Charts for Presentations
Roger Govier: Advanced Filter
Frederic le Guen: Power Query: Manipulate Your Data Like a Pro
Ken Puls: Combine All Files in a Folder
Mike Girvin: Power Query M Code Approximate Match Lookup Formula
Bill Jelen: The Power Behind the Boringest Sentence in Excel
Henk Vlootman: Understanding Context in Power Pivot
Oz du Soleil: Thinking Through the Modelling of a Seating Chart
Tony de Jonker: Financial Modelling
Hervé Thiriez: Creative Excel Model Development
Ian Huitson: An Introduction to Simulation in Excel
Jan Karel Pieterse: Staying out of Trouble
Charles Williams: Make Your Own VBA Worksheet Functions
Mathieu Guindon: An Overview of Modern VBA Best Practices
Ingeborg Hawighorst: served as editor for the book
You are buying the e-book.
Immediately after purchase, you can download the book in three formats: PDF, Mobi (for your Kindle) or ePub (for iPad and other devices).
Course Curriculum
Excel Insights by 24 Excel MVPs
Available in days
days after you enroll
🎁 BONUS: Professional Data Presentation with Just One Trick
Available in days
days after you enroll
✍️ Appreciate Your Feedback
Available in days
days after you enroll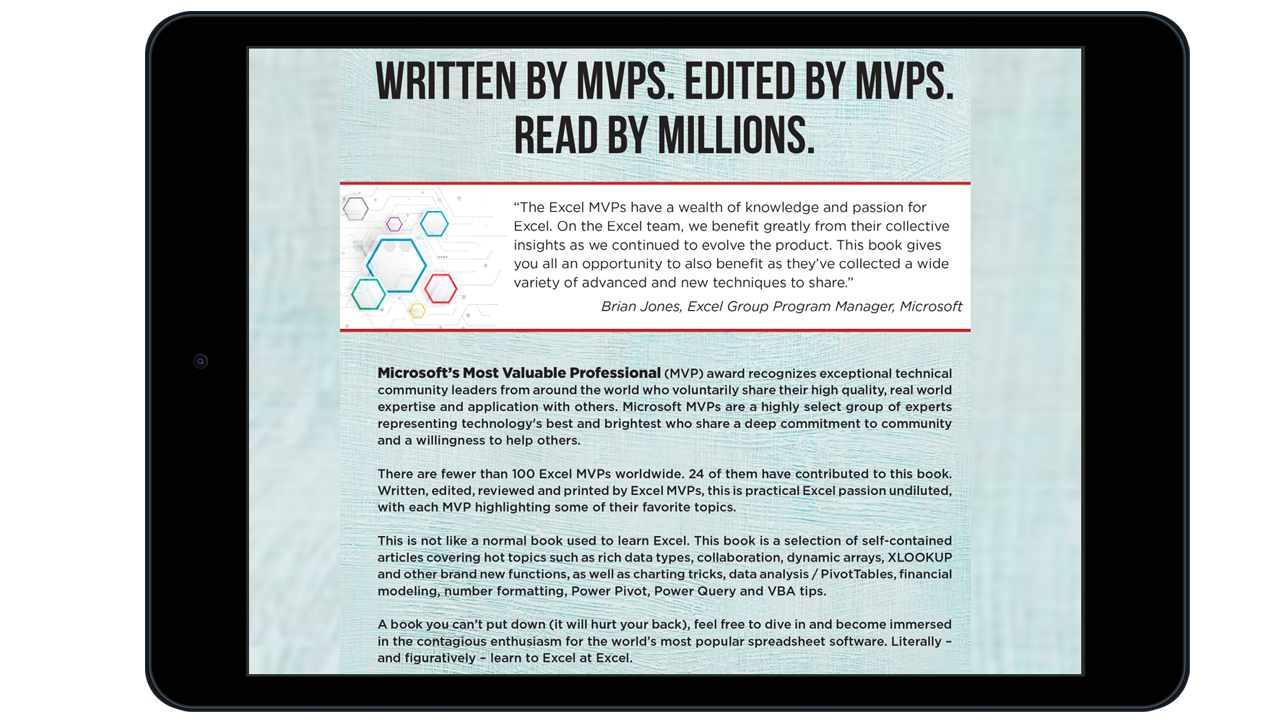 Frequently Asked Questions
How can I view my eBook after purchase?
Immediately after payment you can download the eBook in any of 3 DRM-Free versions: PDF, ePUB or Mobi. Please ensure that your devices are compatible with the eBook before you purchase.
Are refunds available for the eBook?
All eBook sales are final, and as such non-refundable.
Does the eBook expire?
No, the eBook does not expire and you can download and transfer to multiple personal devices.