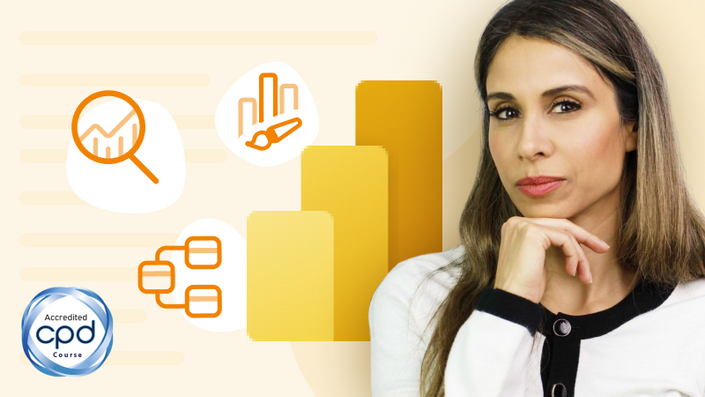 Fast Track to Power BI
Stay ahead of the game in 2023. This course gets you started in Power BI - Fast!
Watch Intro
Job Posting of the Future:
Everyone is talking about it. You're seeing YouTube videos on it. Your boss is asking for it.
Mass adoption of Power BI is happening. Just compare the two graphs below. Microsoft is pulling away from the pack.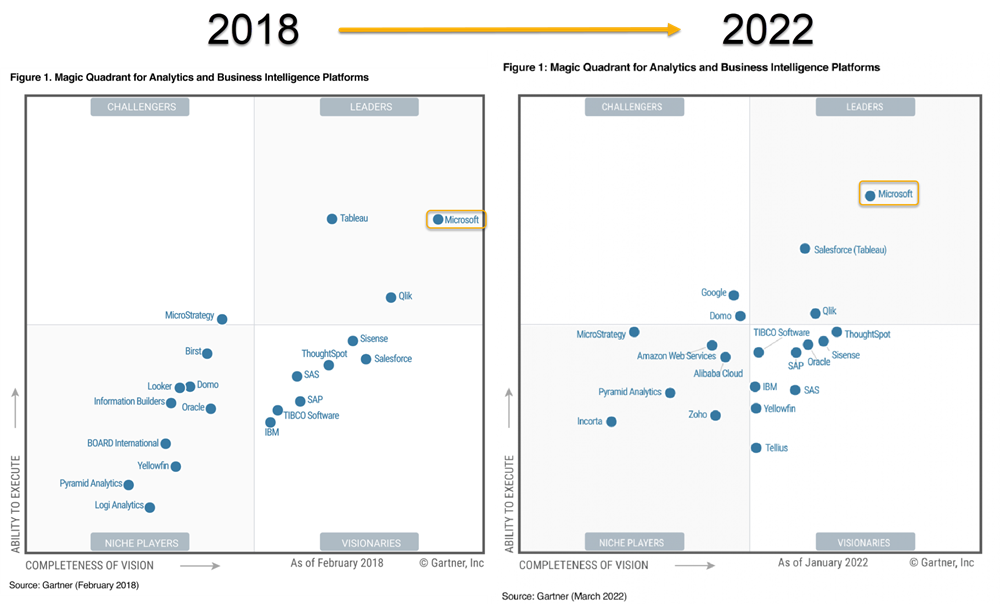 First released in 2011, Power BI is just now hitting the mainstream.
Power BI reports and dashboards are spreading in popularity.
Think to it this way...

It's like when the iPhone hit in 2009. Once someone saw a smartphone, they never want to go back.
Power BI reports will soon become the standard.
Are you ready to trade your flip phone for a smart phone?
It's time to futureproof and accelerate your career by learning Power BI.
The writing on the wall is clear: When it comes to analyzing data, the days of Excel being the preferred solution are coming to an end.

Yes, it may sound scary leaving the familiarity of Excel, but you can do this.
It's Time to Leave the Excel Safe Zone!
So many Excel users want to switch to Power BI but hit a wall. I call this being stuck in the "Excel Safe Zone."
Hey, I get it. You've been using Excel for years.

You're comfortable with Excel, its formulas, and its reports. You can perform most tasks blindfolded.
There's a switching cost when it comes to learning a new tool.
And what about when you have a tight deadline? Are you really going to hop over to a tool you barely know?
Heck no. You'll stick to what's tried and true.
Please, don't do anything to put your job in jeopardy. When you have a tight deadline, stick to what you know.
But let's look past these tight deadlines and think more long term.
Do you really want to keep reverting to Excel every time you give Power BI a shot?
When will you set aside the time to make sure your skills stay sharp?
My advice is to dig your well before you're thirsty.
Because if you don't learn Power BI, rest assured, other people are. We have thousands of them among my students and YouTube subscribers.
And they are the ones who will reap the benefits going forward. They will be first in line for promotions, pay raises, and praise.
You can be one of them. And if you begin now, while we're still in the early days, you can be the one getting high-fives at the lunch break.
What Happens When Twenty Carpenters Can Swing a Hammer – But Nobody Can Operate the Nail Gun?
The person who learns the nail gun becomes the star of the show.
I bet your organization has plenty of Excel power users, but how many know Power BI?
What happens when your senior executive asks:
"Give me a dashboard that lets me click and drill down on the chart to see weekly values!"
The Excel safe-zoners will be stuck with their hands in the pockets. But you? You'll be pointing your laser pointer at the screen, showing your boss exactly where to click for his drill-down.
That's how you make a name for yourself!
Look, you're already doing great work in Excel. But so much of your work gets hidden behind the scenes. That's a limitation of Excel.
Everything you're doing from importing data, to cleaning columns, to creating reports, it's hard work that fails to get recognized.
Power BI pushes your hard work to the surface so everyone can see what went into it.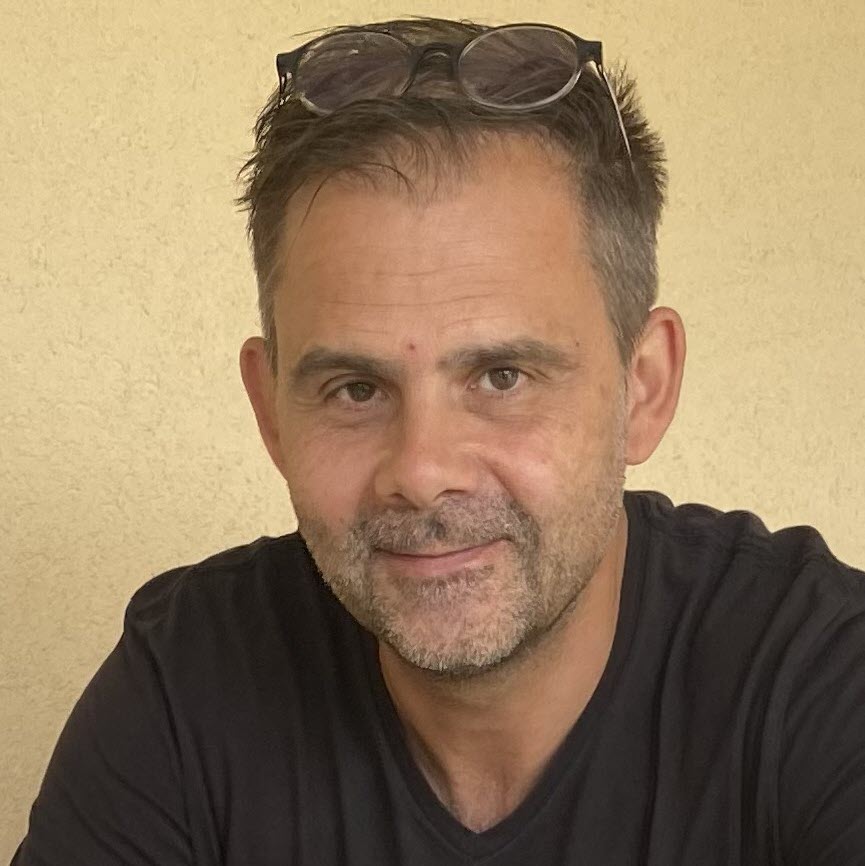 "This course goes beyond my expectations. I learned from this experience what Power BI can do. Even if I struggle to make something, I know I can always refer to what I've learned in this course. I was updating and implementing more professional tools in an existing company report while following your course. The result is a "woaw" effect each time others refresh the report 😊.
Thanks for the time you spent making such a professional course. I've seen many others on various topics, but your courses are clear, easy to follow, and straight to the point. Stunning!"
- Michel Picht

"Some time ago I decided to learn Power BI, but after a few months I was still struggling with the basics. This course gave me clarity and direction.
Before I took the course, I wondered whether I would get a return on my investment, both in terms of time and money. Now, with confidence, I can say I got way more than I expected. The benefits are priceless.
Honestly, this was one of the best courses I have attended. You have shared a wealth of knowledge and put it all together so well. The examples highlighting various pitfalls and how to navigate through them were excellent. You also shared the multiple ways a situation could be approached and how to choose the one that is the simplest and would support the future building or updating of the report.
The course is very well structured and delivered flawlessly. Very engaging, challenges are posed at the start, which are then broken down and solved with meaningful examples that can be applied to other scenarios. There are also lots of tips to avoid errors and ensure the user maintains a clean and traceable trail of the work done."
- Michael Da Silva
Feedback from our students who enrolled in the preview of this Power BI course:
"Great introduction to Power BI and you took away my hesitations to learn beyond excel." - Raj de Zoysa
"I have attended few Power BI trainings but never had someone like you who beautifully linked Excel to Power BI and made it feel like it was just an extension to what we know already. The overall framework of the course looks great and I am eager to dive into the full course." - Anand
"I had attended day or 2 courses on Power BI - but that face-face learnings were way too fast for me with no review button. It's really difficult to follow as I am a very visual person. Your online courses are just perfect for what and how I need to learn. The quality of your sessions are excellent." - Jitendra
"Looks like you have done it again: great practical explanations; great overview; great quiz and practice exercises." - Bill
"Even though I consider myself pretty good in Power Bi, I still look forward to taking the course, I always learn something new from Leila" - Carina
Want to See What Power BI Can Do?
Power BI is really cool. Check this out…
Here's a simple Power BI report embedded on this page. Hover over the bar chart to see the tooltip. Click around the report and check it out for yourself.
That's just a taste of what Power BI could do.
💡 What if you could whip up these types of interactive visuals?
💡 What would your bosses and co-workers think?
💡 If you rolled out reports like this consistently, how might it impact your career?
Three Misconceptions about Power BI
If you've read this far, I congratulate you on being open to Power BI. You're not the norm. Most people stay inside their comfort zone, phone-it-in at work, and have zero interest in advancing their skills.
That's what I love about our audience: You're always wanting to learn more.
Still, you may not be completely sold on Power BI. Some common myths are floating around that keep Excel pro's from making the leap.
Let's clear those up right now, shall we?
Misconception 1 – "Power BI is an advanced tool"
No! You don't need to be a coder or a techie to use Power BI! This myth really bugs me.
Look, Power BI may look scary, but it's harmless. If you can use Excel, you can use Power BI.
The reason it scares people off is the way it's often taught.
You see, one of our core pillars here at XelPlus is to teach the simple stuff first. Which is different than how most instructors teach.
Most instructors lead with the "super techie" techniques, most of which you'll never use at work.
Not us. We know you're busy at work and need to prioritize what you learn. That's why, inside our courses, we always start with practical use cases – not the super techie stuff.
Our Power BI course will be no different.
Staring with your first lesson, you'll see Power BI is nothing to be feared. Instead, you'll think, "Where have you been all my life?"
Misconception 2 – "Power BI is only for dashboards"
When most people think of Power BI, they think of dashboards.
That's understandable, given these flashy dashboards you're seeing on YouTube. But Power BI is about more than dashboards.
Power BI is first and foremost about creating reports. Your first report may be a table. "But I can do that in Excel!", you're saying.
Yes, but these Power BI tables are not your ordinary tables. These are like Excel tables on steroids. You can click on a table row and automatically filter the rest of the data on your page.
That's impossible to do in Excel. But in Power BI, it's only three clicks.
How is this possible? Because of the underlying Power BI technology, and the way it interacts with your data.
The Microsoft team, in a stroke of brilliance, found a way to make dynamic reports as simple as click-click-click-DONE.
How much time might that save you each week?
Misconception 3 – "Power BI doesn't offer me anything
I can't already do in Excel"
It's true, Power BI may not be for you.
Here are three questions to determine if Power BI can help:
Does your company want to analyze data on a monthly or annual basis? For example, looking at how product sales have performed over the past three years?

Does your company want to segment your data? For example, drilling down by different categories?

Does your company want to see a bunch of different metrics, like weighted averages, medians, counts, and max and min?
If you answer "yes" to any of those, Power BI should be an essential step in your workflow. In Excel ...
You can't create custom tooltips

You can't cross-highlight

You can't create quick measures, and instead, need to write lengthy DAX formulas (Power BI writes the DAX formulas for you)
To go back to our phone analogy…
Trying to perform these tasks in Excel is like trying to access the internet from a flip-phone. You can do it, but boy does it hurt.
Your Instructor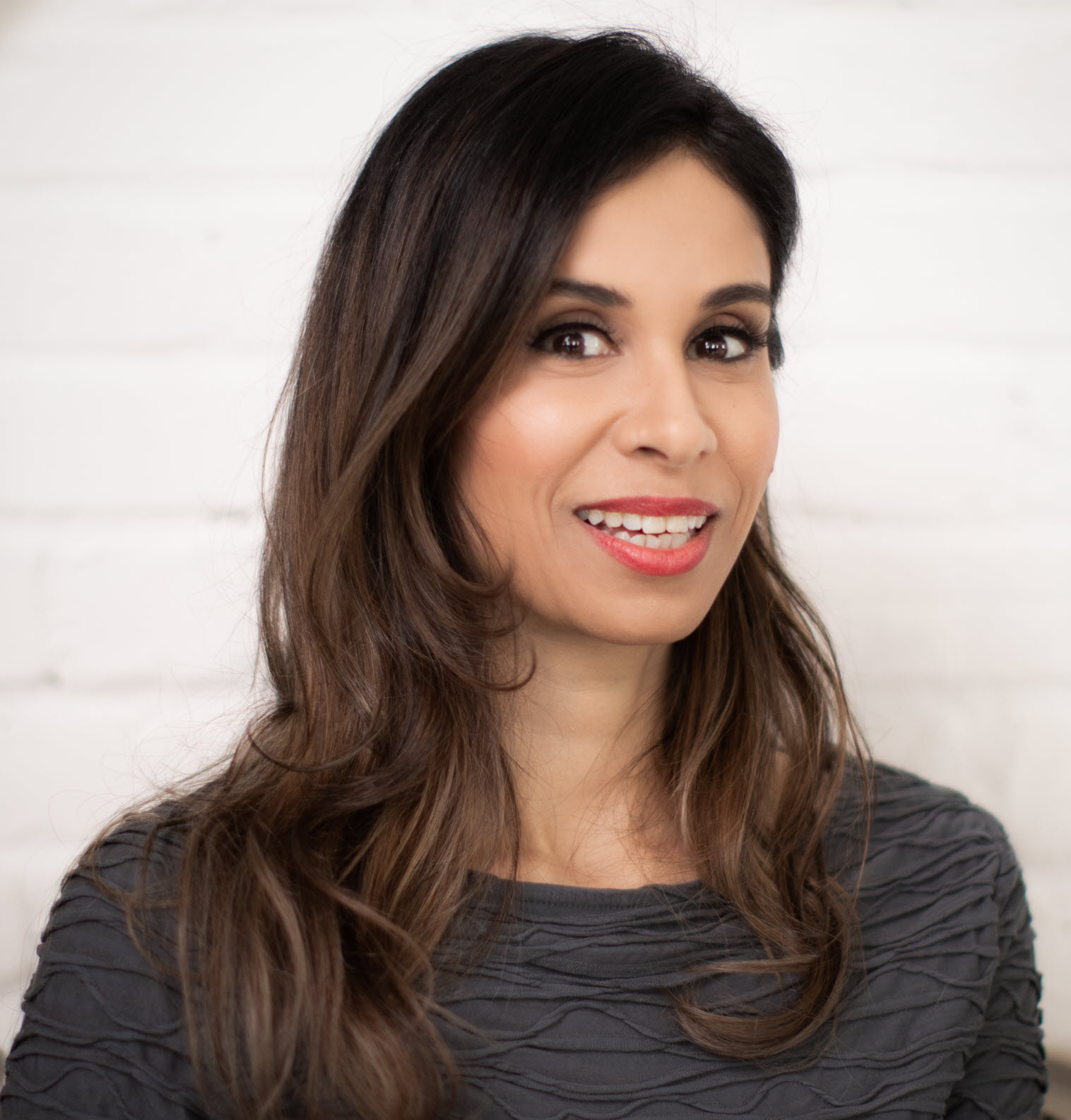 My courses & tutorials are for ambitious beginners and professionals who want to upgrade their data analysis skills. If you hate doing things manually, you'll love my approach.
I don't just want to show you solutions to specific problems, but to teach you to find solutions to ALL your future data analysis problems.
On my YouTube channel, I share Office Productivity tips & tricks based on questions I get from our online community & professionals at my training sessions.
I am a Certified Microsoft Excel Expert and was given the Microsoft MVP award in 2017. I have over 15 years of experience implementing and training users on Management Information Systems of different sizes and nature - these include SAP BW and Oracle HFM.
My background is: Masters in Economics, Economist, Consultant, Oracle HFM Accounting Systems Expert & Project Manager. My passion is teaching and solving difficult Excel problems. I am also addicted to learning and enjoy taking online courses on a variety of topics.
I founded my online learning company, XelPlus, in 2015. Our aim is to help you gain the knowledge you need so you can create useful tools, solve problems and get more done.
Let's start now.
What if you're Already an Excel Power User?
Today's world is changing fast, and managers are looking for employees who can adapt.
Can you blame them?
Who would you choose for the promotion? The employee who only knows Excel? Or the person who can jump effortlessly from Excel to Power BI?
You'd choose the full-stack data analyst, of course.
If you're already an Excel power user, don't stop your learning journey now.
As Warren Buffett says:
"The best investment you can make is an investment in yourself."
Don't Use Excel Much?
No problem! This course is about Power BI and everything you need to know to get started fast.
The side benefit is that by the time you're done with this Power BI course, you'd also have leveled up your Excel skills because there's an overlap with Power BI and the Power side of Excel.
You learn one tool and end up mastering two!
But Leila, Why Learn Power BI from You?
You have plenty of options for learning Power BI, so why enroll in our new course?
For starters, as with all our courses, you'll benefit from our XelPlus 3-pillars of teaching.
Pillar 1 - We Speak Plain English
We don't use jargon or "smart sounding" words when simple words will do. We start with the easy stuff to get you hooked. Then, you can go deeper.
We don't scare you away by showing you the nerdy details right out of the gate.
Pillar 2 - We Give You Real World Examples
Power BI is meant to solve real world problems.
"What is this data trying to tell us?"
"What are we missing?"
"What should we do after this meeting?"
Some teachers are afraid to go there. They feel safe with theory.
Not us. We come from the trenches of industry.
We don't shy away from real world examples. We lean into them.
Pillar 3 - We Show You the Big Picture
I'm the type who needs to see how everything fits together.
After all, nothing exists in a silo.
Some courses only show you how to use Power BI Desktop. Some only show you Power BI Service. Others show you how to create beautiful reports.

In our course we show you both Power BI Desktop and Service. And yes, we show you how to create stunning visuals, but we also show you there is far more to Power BI.

As an XelPlus student you've been learning one tool after another.

Power BI is a new and extremely powerful tool in your digital workshop. We not only show you how to use Power BI but how it fits into this larger collection of tools.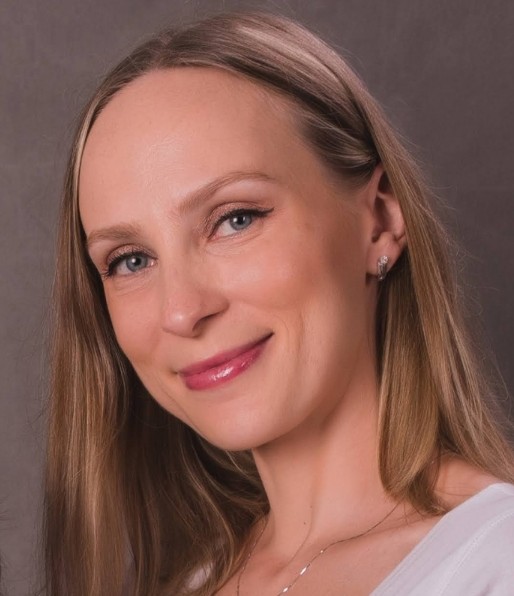 "I already knew Power BI and work with it at my job. My original hesitation was that I might not learn a lot. XelPlus' Power BI course is a whole package and a one-stop shop for those who need to learn everything from beginner to advanced. It took me a year to learn Power BI from multiple sources and I still found new information in this course. I can now create more appealing Power BI reports and build stunning visuals. I wish it was available earlier!"
- Evgeniya Sinitcyna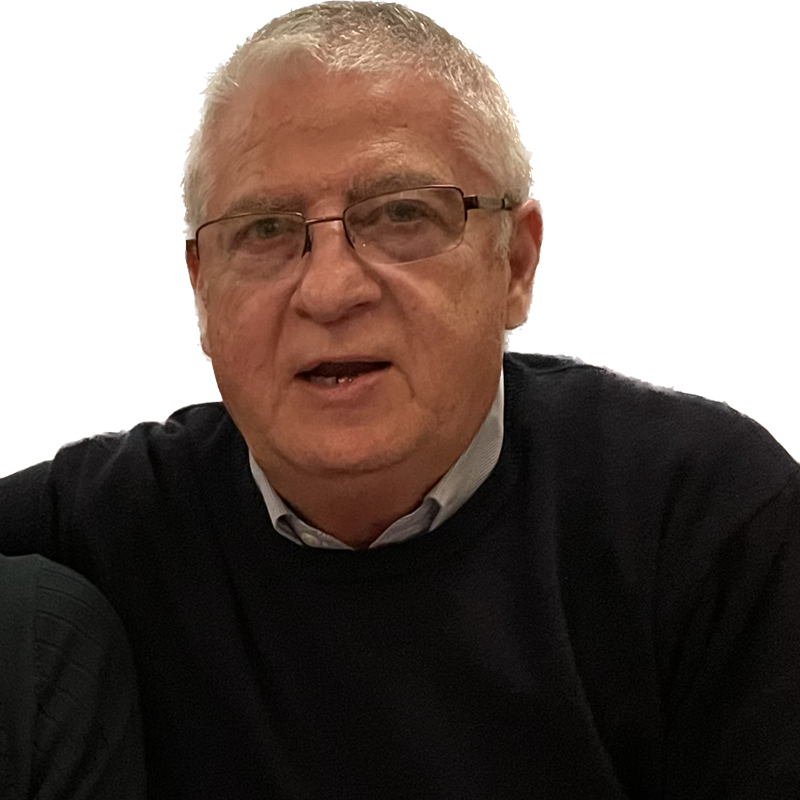 "I had long been looking for the right course to become available and since I have followed your Excel videos over the last few years, I had no doubt that yours will be the right one for me knowing what to expect from experience.
I had previously used Power BI to create some work-related reports; however, I was severely limited in various aspects of modeling and creating visuals, among other things.
This course helped me tremendously with many new options that are now available to me, and I have taken note of the various possibilities that I will certainly use in the future, like using Power Query for the "12 month" filtering, grouping the KPIs, etc., just to mention two.
That was why I enrolled in the first place, and your course helped me achieve what I wanted and much more. I also found the course to be exceptionally well presented, very professional, and easy to follow."
- John Copperstone
This is The Fast Track to Power BI
This is not the "Dive right into the super advanced stuff that nobody uses" Power BI course.
It's the Fast Track to Power BI course.
That means you'll be up and running with only the most useful parts of Power BI. That way, you can start using Power BI at work immediately.
Sure, we get into some advanced stuff. Eventually. But you don't need to – and shouldn't – begin with the advanced stuff.
You're busy, and we designed this course for the busy person.
So yes. The course is called "Fast Track to Power BI" because it gets you started fast - but it does include the Expert Lane as well! You're practically getting TWO courses with this SINGLE course.
Your Course Roadmap to Becoming Power BI Fluent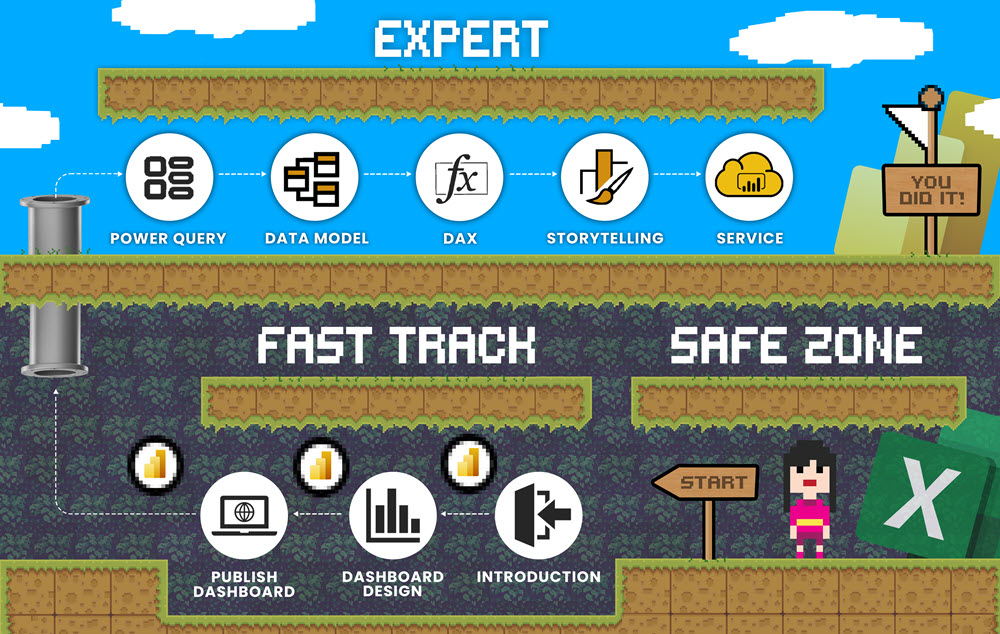 Here's Your Curriculum
You can view the detailed curriculum below. See anything that jumps out? Which lesson do you think you'd begin with?
Course Curriculum
--------⏩ FAST TRACK ⏩--------
Available in days
days after you enroll
Section 2A: Tour of Power BI as you Build Your Report
Available in days
days after you enroll
Click the Blue Button Below
Ready to enroll? Click the blue button below to get started.
We'll see you on the inside!
The Risk in Clinging to Excel
Clinging to Excel is not the way you want to advance your career. The history books are filled with stories about people and companies who cling too long to one thing.
5 Things Will Happen If You Don't Make the Switch to Power BI
The switch to Power BI is coming, whether you want it to or not. If you don't tackle this now, here's what you can expect.
You won't be able to take on new projects.

When your boss asks for a nice visualization you'll say, "Sorry, I've only got Excel charts."

It's like a restaurant customer ordering for a filet mignon, and you bring out a McDonald's hamburger.

Don't disappoint them!

You'll have to rely on the IT department. Enough said! It takes forever for them to get to your task – if at all.

You'll miss out on chances to contribute to the company and impress your higher-ups.

You won't be as competitive as other people if/when it comes time to find a new job.
The future of data analysis is storytelling and making sense of the data. You can't blame management for wanting more actionable data.
The question is: Will you adapt? Or will you cling to the past and become outdated?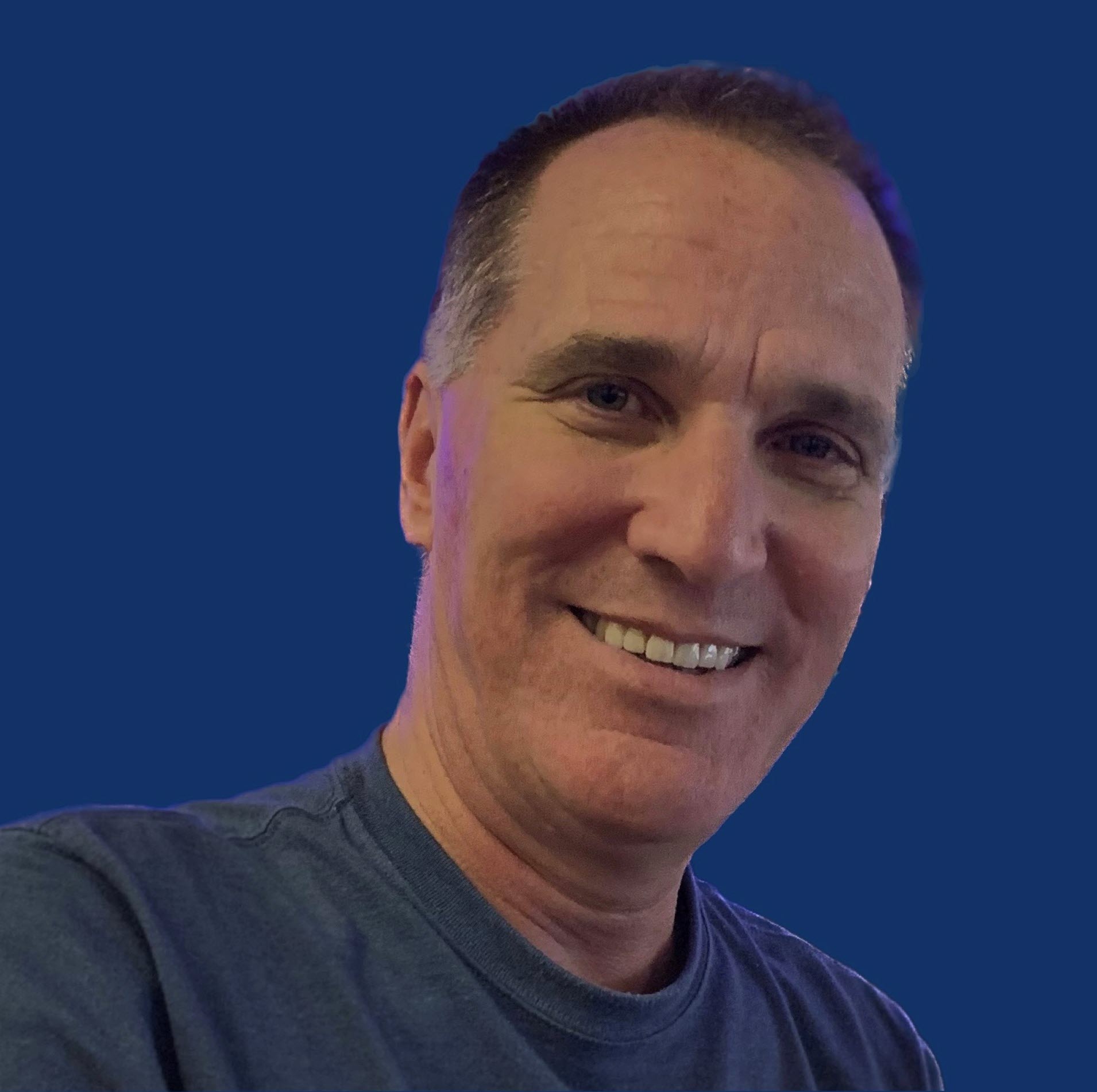 "I use Power Tools in Excel frequently and have used Power BI enough to realize its potential. I firmly believe this is a tool that is essential for professionals going forward.
I have taken Leila's courses before, they are fantastic and I have never been disappointed. From this course, as expected, I picked up techniques that I wasn't aware of and understand many concepts much better! I learned more about the flexibility of Power BI.
Leila did a fabulous job of creating scenarios and explaining how to figure them out. I gained much more awareness of the tool and what Power BI can do. As I encounter situations, I now have a knowledge base to explore further. Outstanding course!"
- Don Tomoff
You're protected by our guarantee
You've gotten this far on the page and are thinking, "Hmm, should I really buy this thing?"
I get it. You're busy and aren't sure this is the best decision.
My advice? Give it a shot, and then if you later decide it wasn't a good idea, take us up on our guarantee.
You have 30 days to decide if you want to stick with your purchase. If not? Shoot us a message and we'll process your refund asap and with zero questions asked.
🎁 Join now to get these special launch bonuses
You'll find that the course alone is A+. But your experience will be made even better by these four bonuses.
Bonus #1: DAX Recipes
These are quick recipes and solutions for your DAX calculation needs.
Sure, it's a good idea to learn DAX. But what if you don't have the time?
Our PDF contains solutions to common problems. Simply copy/paste them into Power BI and you'll be off to the races.
You can always learn DAX later 😊
Bonus #2: Power Automate in Power BI
Picture this…
You've finally got your new Power BI project launched. You've tested it, shared it with your colleagues, and everyone loves it.
High-five!
Now you're in maintenance mode. No, you're not spending hours a day inside this project. Not like you had. But it still takes time to keep your Power BI project clean and up to date.
Wouldn't it be nice to automate some of the annoying "little things" while you're in maintenance mode?
You bet it would. Formerly known as Microsoft Flow, Power Automate is a nifty tool that allows you to automate your Microsoft projects.
And we've created a bonus training showing you how to use it with Power BI.
Imagine setting up a trigger for when a special condition is met? You could have an email sent. There are so many ways to automate those manual tasks in Power BI, and this bonus will give you some ideas how.
Bonus #3: The Course eBook
You're not always in the mood to watch videos. Or maybe you're not able to.
If you're a person who enjoys reading, we've got you.
Not many online courses offer an eBook version, but we do. And it's detailed - over 330 pages of Power BI wisdom!
Yes, you can take this course by reading it.
For the best results, combine both: Watch the videos and read the eBook.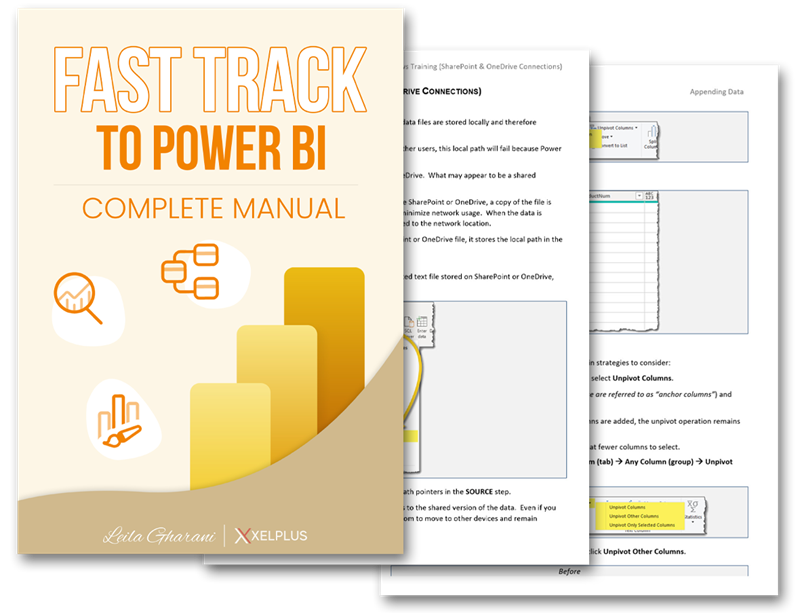 Either way, you'll find this an extremely enjoyable course.
(Note: these bonuses will be automatically available for you 30 days after enrollment)
⏫ Beam Me Up, Scotty!
Jump into the Topic You Need – Fast
As a Star Trek fan, I was always in awe at the transporter technology. It blew my mind how Captain Kirk could locate a spot on a nearby planet, then instantly transport his team to that exact location.
I want your experience inside our new course to be just as instantaneous.
Thanks to a new tool we created here in our XelPlus "laboratory," now, when you want to find a topic, you can do so instantly.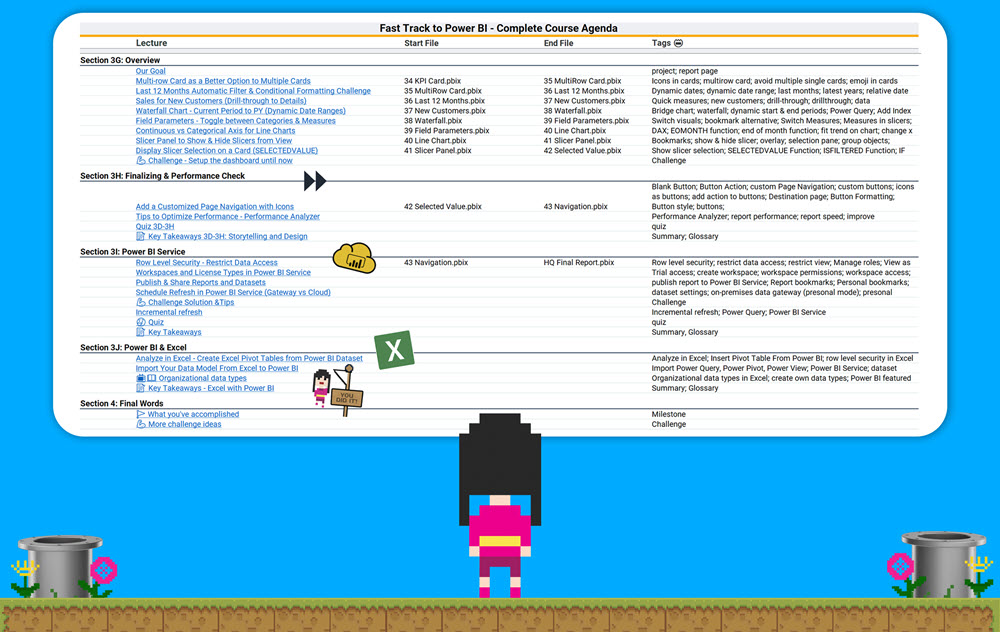 We've gone through every second of every lesson and pulled out the key words & topics. Then, we created an interactive agenda which allows you to quickly locate exactly what you're looking for.
Once you find your topic, it's simply a matter of saying "Beam me up!" (not actually required). Click the link and you'll instantly be transported to the correct lesson and timestamp.
No more wasting hours searching. Find what you need, then get back to work.
🆕 Earn CPD Credits
I'm excited to announce that this course is CPD certified (11 CPD hours). When you complete this course, you'll have the option to claim your CPD credits.
You'll see the official CPD stamp on your course certificate.
The Continuing Professional Development is a top global accreditation, trusted by companies and industries worldwide.
If CPD credits can help in your career, this isn't a course to skip.
📃 Get a Certificate of Completion
When you finish the course, you'll get a certificate of completion.
You can send it to your boss, upload it to LinkedIn, or just add it to your own personal library of learning achievements.
You Can Make the Shift to Power BI
How would life be different if you could use Power BI as easily as you operate your car?
When you sit down in your car, fire it up, and drive to work – it's the easiest thing in the world. You don't even think about it.
Imagine you had the same fluency with Power BI?
What if you could whip up eye-popping reports, visuals, and dashboards with ease?

You can do that for a one-time investment of only $249 (excluding VAT).

To summarize, you'll get:
The skills you need to stay on the cutting-edge of your career

Access to our entire Fast Track to Power BI course

Lifetime access, so you're never in a rush to complete a lesson

Bonus #1: DAX Recipes

Bonus #2: Power Automate training

Bonus #3: Complete course eBook

The "Beam Me Up Scotty" topic transporter to quickly find what you need

Files to help you follow along and jump in at any point you want

A comment section to get your questions answered by our staff (how awesome is that?)

Credits for CPD (coming end December 2022)

English Captions so you can easily follow along each video

Quizzes to track how well you understand the concepts

Challenges to test your Power BI skills
You have everything in that list for just $249 (excluding VAT). And again, you never lose access. You can see what a great deal this is.
Ready to take advantage? Click the button below and enroll now. You can be watching the first lesson in less than five minutes.
🤔 Is this course right for me?
Most of our students fall into one of these categories:
New to Power BI
Are you new to Power BI? Welcome! This Fast Track to Power BI course will guide you from the beginning - blank canvas - until a completed report & dashboard. We show you how to best use the core elements of Power BI to conduct meaningful data analysis.
Established Power BI users
Do you already use Power BI, but want to get better? Take this course and you'll reduce your headaches while getting your work done faster, with fewer errors.
❓Frequently Asked Questions
Will I need a Power BI License?
No. Most of the course we will be using the free Power BI Desktop application. You don't need any license to use that. You can get the application for free. You will only need a license when we explore Power BI Service. If you don't have one, we show you how you can set one up for free by activating a free trial license.
Do I need to be good in Excel / Power Query or Power Pivot?
You don't need to have prior knowledge of Power Query, Power Pivot or even Excel to take this course. We start from scratch. I'll introduce you to the important aspects of Power BI including Power Query, data modelling and DAX. The side benefit is that as you become good at Power BI, you automatically become a Power Excel user. You'll be able to use Power Query and Power Pivot in Excel like a pro!
The course is called "Fast Track" - does it include the Expert Lane shown in the graphic?
Yes! The course is called "Fast Track to Power BI" because it gets you started fast- but it does include the Expert Lane as well. We start with the most useful but easy parts of Power BI first before we dive into the advanced stuff. You're practically getting TWO courses with this SINGLE course.
When does the course start and finish?
You'll take this course on your own time. It is a completely self-paced online course – so you decide when you start and when you finish.
How long do I have access to the course?
How does lifetime access sound? After enrolling, you have unlimited access to this course for as long as you like - across any and all devices you own.
What if I am unhappy with the course?
We would never want you to be unhappy! If you are unsatisfied with your purchase, contact us in the first 30 days and we will give you a full refund.
What if I have questions about the lessons? Can I get those answered?
Yes! Most online courses leave you on your own, but not here at XelPlus.
We have a team of helpful teaching assistants (TA's) ready to answer your questions about each lesson. Below each lesson, you'll find a comment section where you can ask a question about the topic. Our TA's will chime in and do their best to help you.
Send us an email to

[email protected]

and a member of my team will get back to you ASAP.